Dante's Inferno, Canto IV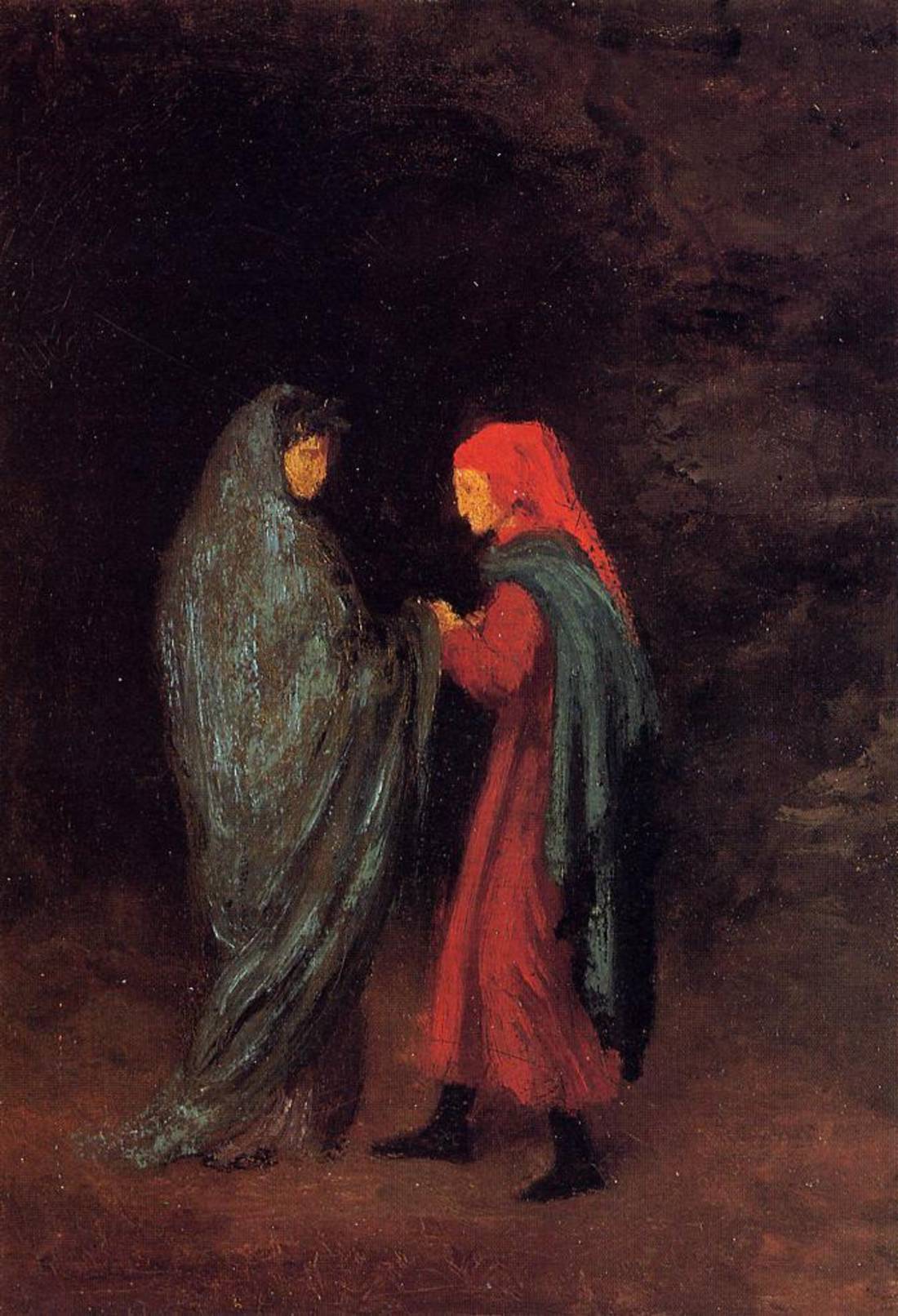 Canto IV here.
Previously: Canto III. The others couldn't win for losing – avoid the boat, That's a paddling; get in the boat, that's a paddling. Fall out of the boat? You'd best believe that's a paddling.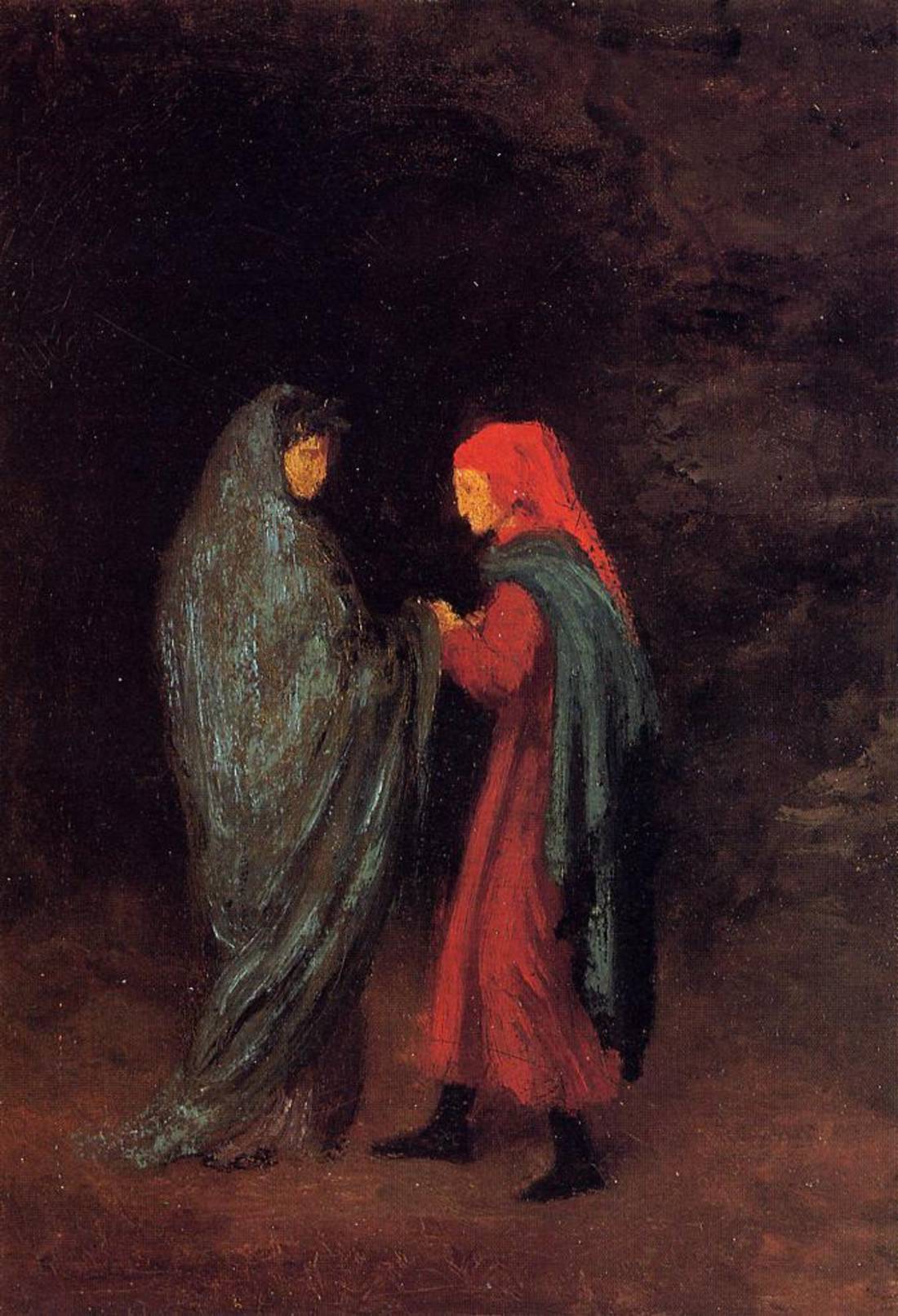 A thunderstorm, a full shopping cart falling down a flight of metal stairs, a drum-kit accident: I hadn't been asleep, exactly, but the sound of crashing brought me to myself.
Let's say I was well-rested. Intelligently I scanned the scene, running back and forth (in a controlled manner) to assess the outlook, get the lay of the land.
There are two facts important to relate. I wasn't startled, and I wasn't lost. I knew exactly where I was: someplace awful that I hated.
There was nothing to see. Seventeen flavors of midnight in all direction, take your pick, with no end in sight.
LET'S DO IT TO IT, my good friend Virgil said (we're close). LET'S DROP FURTHER INTO DARKNESS. I'LL GO FIRST.
There wasn't much that I could see except the color ejected from his face. Less blood than bloodless. Mom's spaghetti level-looking-scared. Are you absolutely sure, I said. Your face looks like it needs the bathroom.
And he said YOURS IS A COMMON ERROR. I AM PALE WITH SYMPATHY, COMPASSION, ETC, FOR ALL THE BLIND SCREAMING YOU HEAR BUT CANNOT SEE. I HAVE GONE WHITE WITH EMPATHY, BUT I AM NOT AFRAID OF ALL THE SCARY SOUNDS THAT BOIL IN THE DARKNESS. LET'S DO IT TO IT.
So we did it slid it. He was not afraid, and I had not recently been asleep. Going further down, things started looking up. Then the screams resolved to passive sighs – more good news!
The air shook lightly, like a jelly, gently sad. A placid tomb for all those set apart. I felt like I "got it" right away and could save some time by not asking stupid questions.
This was wrong, I now realize. NO QUESTIONS FOR VIRGIL? Virgil said. I GIVE YOU PRIVATE GUIDED TOUR AND YOU YAWN LIKE SMALL AND TIRED DOG IN PURSE?
LET'S PRETEND YOU DID YOUR JOB AND I'LL DO MINE. NO ONE HERE DID ANYTHING WRONG. INCLUDING I LIVE HERE.
IT IS MY UNDERSTANDING THERE IS MORE GOD THAN WE WERE PREVIOUSLY AWARE OF, WHICH IS WHY OUR LIVES ARE MERELY OKAY, EVEN THOUGH NO ONE EVER TOLD US ABOUT THIS NECESSARY  "MORE OF" GOD. BUT WE DO NOT COMPLAIN.
WE ARE THOSE WHO SIGH, AND THEN WHEN SOMEONE SAYS "WHAT'S WRONG?" WE SIGH AGAIN AND SAY, "NOTHING." BUT HERE IT'S NOT SO BAD. WE HAVE GRASS, AND SOUP, WE GET TOGETHER.
The truth of this sat squatting on my heart. They were so good! They tried so hard! Virgil, my close personal friend! To cheer him up would be fantastic!
He wanted questions, he'd get questions! "To live here – you all stay forever? Has no one been upgraded, either through his own rewards points, or the miles of another?"
He stumbled, not quite sure. YOUR FRIEND, THE ONE WHO – QUITE THE MOST – I MYSELF WAS MERELY FRESHLY DEAD AND NEW TO THE WHOLE SCENE. HE ARRIVED –
I THINK THAT'S RIGHT – AND FISHED SOME OUT. I WANT TO SAY HIS NAME WAS YEEF? YEENSH? HE WAS CERTAINLY HERE –
HE WORE A VERY MEMORABLE HAT, I THINK, OR CROWN – AND FISHED A HANDFUL OUT. I DIDN'T CATCH HIS NAME OR WRITE IT DOWN.
I THINK HIS EYES WERE BROWN. HE SEEMED NICE. BUT THAT WAS IT. THE REST OF US WERE LEFT TO TOUGH IT OUT WITH THIS CASTLE, AN OLIVE GROVE, AND NOTHING.
[Image via Wikimedia Commons]