Dante's Inferno, Canto V
Canto V here.
Previously: Canto IV, part II. After this I heard a voice ring out, "Pizza for the best ghost! He left and then came back, which is a huge deal here!" It is a huge deal there.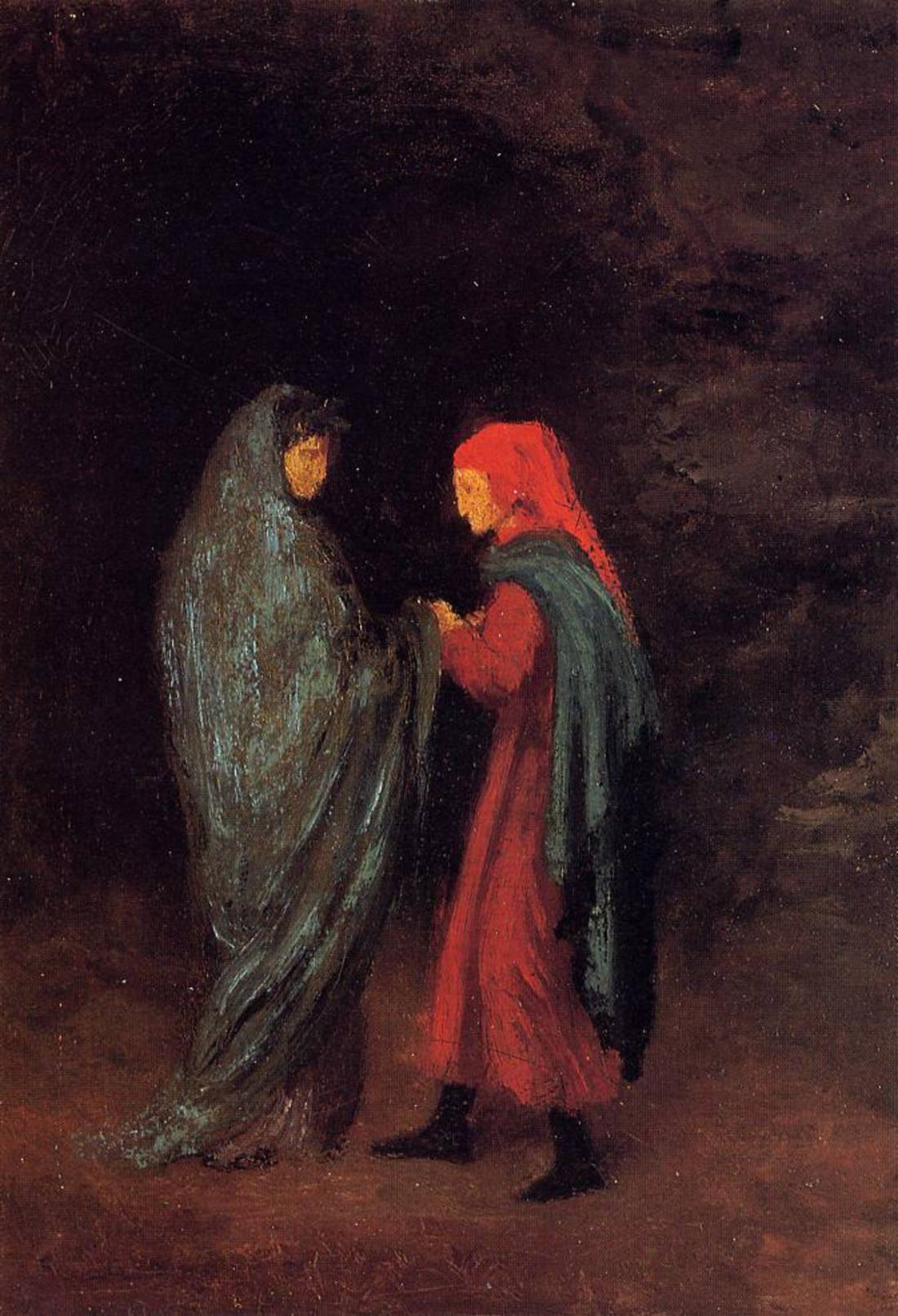 The difference between the first and second circle is a greater scream-to-square-foot ratio. They really pack it in.
First Minos looks at you. You sort of take a quiz. (You failed.) And he looks mad. He looks at all your crimes and wraps around himself in anger.
As folded up he gets, so deep you go. You get? You see his face and burst out telling, he thinks about your badness, then marks it with his tail. His tail says five, it's five for you.
One at a time – they tell him all their bad, they hear, they drop. For us, he knocks off work.
"No reservations at the hostelry of sorrow! It's better not to be here. You should have called ahead."
This part seemed pointed: "And don't trust certain people. I don't name names."
My guide: NOT YOUR JURISDICTION. WE'RE AUTHORIZED TO GAWK. DON'T YOU HAVE A TAIL YOU'RE MEANT TO WAVE AROUND? FOCUS ON THAT. EYES DOWN.
Which worked! By "worked" I mean: Now we get to see things get worse. Things got worse. The light became a cough and went out. A place that's all wind and no fun.
Everyone twirling like a storm out of Kansas. Gales on gales. A rotisserie spit of a storm.
You know birds? Right, birds? How so they're in the air? Souls like that. Buffeted, in both senses of the word.
Drifting, like umbrellas in lines. Definitely not happy. I knew who they were, I think, but thought I'd ask, just to be sure.
"Excuse me – the flayed, the flying – the scrubbed-up souls, they're who?"
A civil answer: SEMIRAMIS. DIDO. CLEOPATRA, OBVIOUSLY. HELEN, ACHILLES, PARIS, TRISTAN. AND A THOUSAND MORE.
By the nine hundred and nineteenth I felt sad. "Is there someone else to talk to?" I pointed out a couple on the wind.
Well, everyone was on the wind. They seemed a little lighter on the wind. Maybe that's a good thing? I asked; they floated, dove-down, nesting near, then started right away:
"Oh God, you're really here, how lovely nice – so sorry for the doom that fills the air – if God's forgotten that he hates us, we might pray he'd give you peace, just for noticing how rough this wind can be.
"Want to know where I was born? Sorry I can't offer you anything to drink, or a place to sit. Where the river Po descends and joins the sea.
"And you should have seen the body I was born to. Built for love. What a machine! Vroom vroom! Dying hurt twice, is how good I looked.
"No fair guessing who I loved: this one you see beside me here. There's no time for him to talk. But we love still. The man who built our death is built for Hell. I mean worse Hell. I mean more Hell than this.
"This here is nothing. Brisk walk on a windy day. The man who pulled me from that body – there's no down too far for him."
This was not making me less sad. I discreetly checked my feet, until next Virgil said (quite loud) WHY ARE YOU LOOKING AT YOUR FEET.
A beat. A minute to collect myself. "It's just that sounded sweet (Not the deepest Hell part) – which then sounds sad. And how many sweet thoughts have ended here."
I asked, "How did you know when love struck?"
Her: "I'll look over your bringing up our better days and talk through the tracks of my tears. A book – we read a book. You look, and he looks, and there you are. Then you don't look. Then you're here."
I wouldn't say that I passed out. I took a brief impromptu leave down to my feet.