Point/Counterpoint: The Thing No One Wants to Talk About Is How Good That Mess of Pottage Was vs. That Wasn't Even One of My Better Messes of Pottage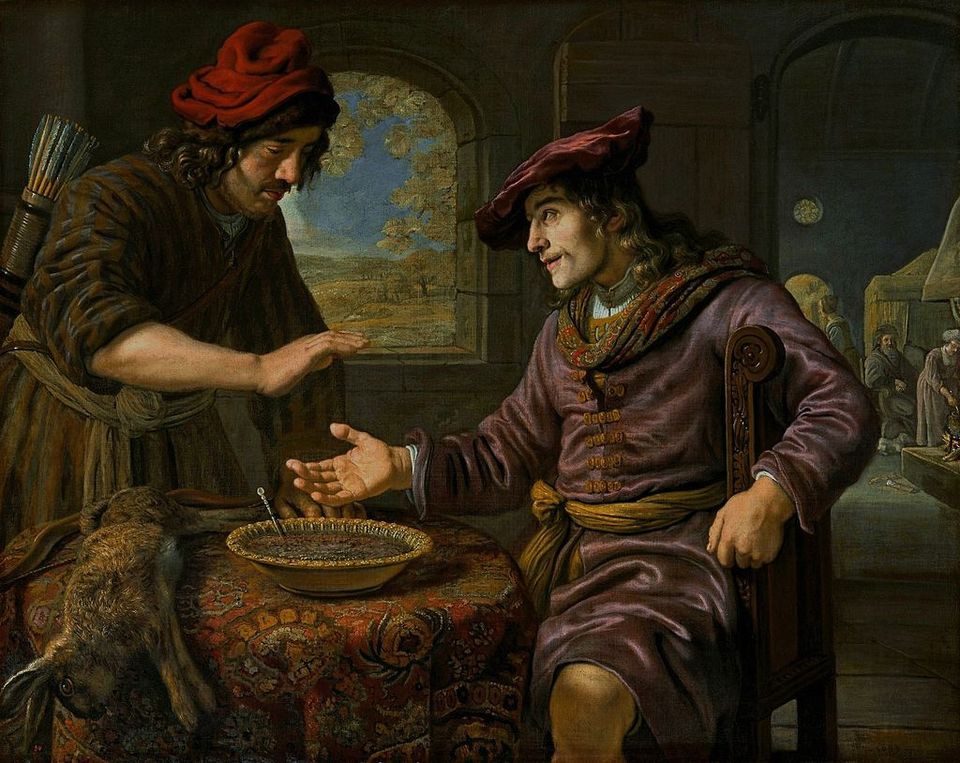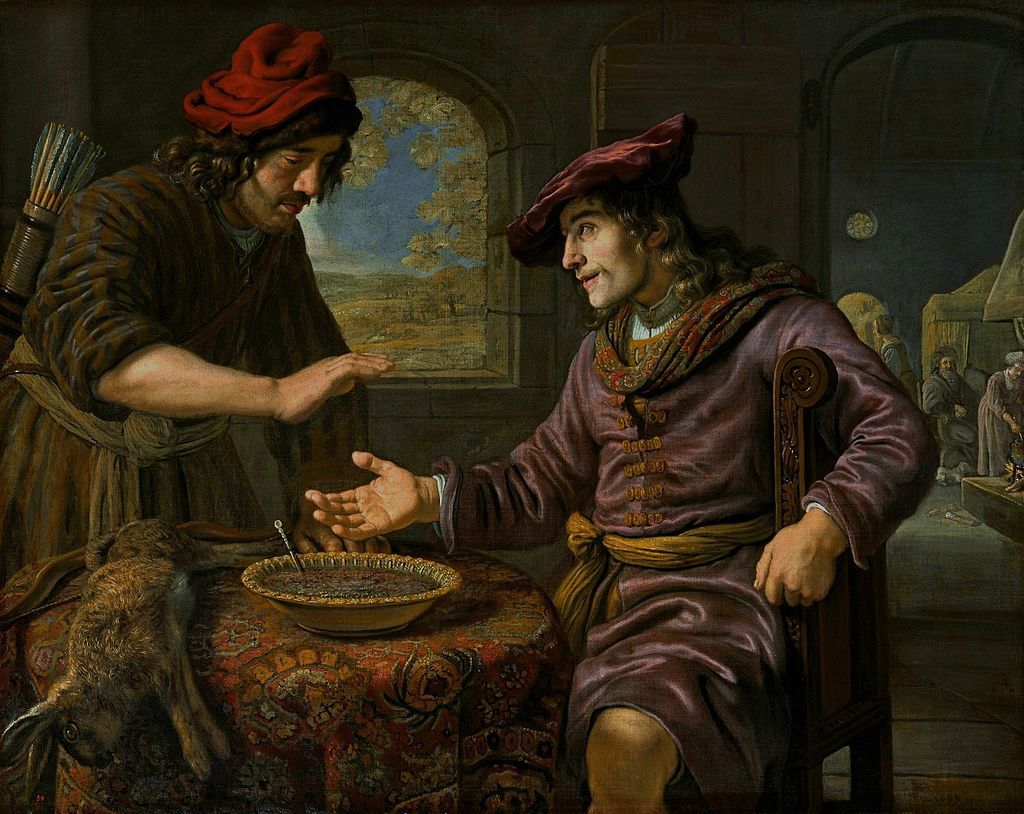 And Jacob sod pottage: and Esau came from the field, and he was faint:
And Esau said to Jacob, feed me, I pray thee, with that same red pottage; for I am faint: therefore was his name called Edom.
And Jacob said, Sell me this day thy birthright.
And Esau said, Behold, I am at the point to die: and what profit shall this birthright do to me?
And Jacob said, Swear to me this day; and he sware unto him: and he sold his birthright unto Jacob.
Then Jacob gave Esau bread and pottage of lentiles; and he did eat and drink, and rose up, and went his way: thus Esau despised his birthright.
–Genesis 25:29-34
POINT (ESAU)
People have a lot of opinions about what happened between me and my brother Jacob but no one ever wants to talk about how good that mess of pottage looked!
---
COUNTERPOINT (JACOB)
That was not even one of my better messes of pottage. I just threw it together! If I really wanted to put my back into it, I could have made much, much better pottage that afternoon.
---
POINT (ESAU)
I was so, so faint. I had just come in from the field! And there was Jacob with this mess of red pottage. Which is so good if you are faint. It was maybe the best pottage I had ever seen. I wish I had some right now!!!
---
COUNTERPOINT (JACOB)
It's just food cooked in a pot. That's all pottage means. So it could be anything from a few boiled vegetables in thin water to a hearty stew full of grains and roots and rich game. I have sod a lot of pottage in my day and I know from good pottage. This was fine, but it was far from my best pottage.
---
POINT (ESAU)
It looked soo good!! I wish I could look at it again now! I would give pretty much anything for another bowl of that red pottage. Wow!
---
COUNTERPOINT (JACOB)
Truly anyone can do it. There's no secret to it. You put whatever ingredients you have in a pot over the fire and you boil it for a few hours until everything is broken down and has the same texture. That's it, that's pottage.
---
POINT (ESAU)
Look, I don't really understand what goes on inside of tents. I'm more of a fields guy. I go out in the fields, I hunt, I'm out there in the fields. Things like simmering, tents, pottage, how plants and animals are turned into food, stew construction – I'm not a witch. I leave that to the experts. All I know is what I saw. And I saw a good deal, and a lot of pottage – a real mess of it.
---
COUNTERPOINT (JACOB)
I could easily have made a better pottage that day. It would have been no trouble for me at all, and required zero witchcraft.
---
POINT (ESAU)
It was a bargain!!! And red is such a good thing to eat.
---
COUNTERPOINT (JACOB)
He didn't even ask for more pottage, or for me to promise that I'd make him more pottage in the future, or anything. Just his whole birthright, right on the spot.
---
POINT (ESAU)
I was going to die! I was so-o-o-oo hungry! My hunger was as big as the field I just came out of, and I had no spells or witchcraft with me to conjure my own dish of good red lentils! What is a birthright? Can I eat it? Is it soup? Listen: I chose to live that day. If you ask me, that's a good deal.
---
COUNTERPOINT (JACOB)
I hope he enjoyed it! Now everything in the family belongs to me and mine, forever.
---
POINT (ESAU)
I even got bread out of the deal! I hadn't even asked for bread! But I got a whole meal of bread and pottage and something to drink in a single transaction!
---
COUNTERPOINT (JACOB)
The best pottage, in my opinion, comes from yellow lentils and hogget. I can make so many different kinds of pottage anytime I want. Thanks to this birthright, I now own several pots, a hearth, this tent, my father's sheep, et cetera, which I will set aside for future messes of pottage I might like to sod in the future.
---
POINT (ESAU)
Call me Edom, baby, because I'm making out like a bandit! I could really go for some more of that red pottage. That was the best thing I ever ate or saw. I think that was enough, and I won't need anything else ever again. Man, that was good! I'm so glad I had a big mess of that wonderful red pottage Jacob made. It really hit the spot.
[Image via Wikimedia Commons]