What Playing with Barbies Actually Felt Like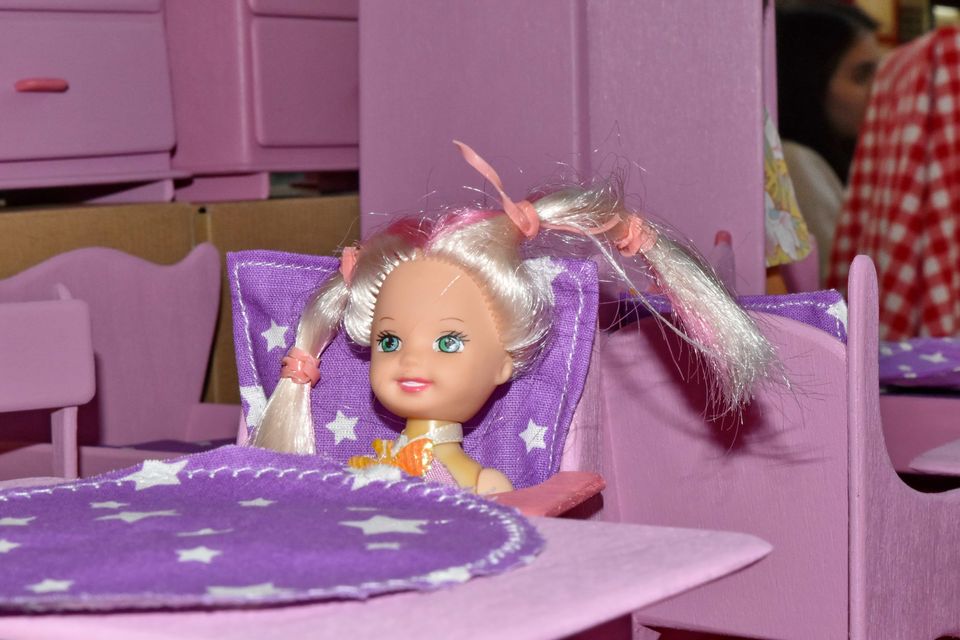 by Melissa Tuckman
"My Barbie is Princess Tara," Ashley informs you. "Your Barbie is the garbageman."
You and Ashley are sitting in Barbieland, which is in Ashley's basement, on the concrete floor.
Barbieland is adjacent to Legoland, where starships and speedboats come together. There are no dwellings in Legoland, only monuments and vehicles.
Barbieland is all warm pastels and open interiors. There's a Dream House, with no back wall.
Princess Tara lives in the Dream House. Your Barbie lives outside. Poor her. She's just the garbageman.
Princess Tara rules from her bedroom. She's about to take her morning bath. She looks so tall with all her clothes off.
You don't think she'll fit in the tub. But she bends at the waist, like all Barbies. And the tub's the right size for her.
She soaks in invisible bubbles. She turns her head sideways, and waves to the audience.
Yes, that's right. The audience. Did you never realize that the Dream House is a stage?
"Come here, Garbage." Princess Tara is talking to your Barbie, summoning her.
You don't want your Barbie to be Garbage. Can she have a real name?
"No, she doesn't get one."
Please?
"Fine. She can be Bella. But only if she finds my favorite dress."
Your Barbie, now called Bella, grabs a garment from the clothes pile at random.
"That isn't a dress. That's a doctor-coat. Ew, Bella. It's too, too ugly."
You try to choose something more feminine.
"That's a leotard. Bella can wear that one. Put the leotard on Bella."
You comply. Then you find a third outfit for the Princess. You offer it to her, like in a fairy tale.
"Finally. You found my favorite dress." It's pink, with a fitted boddice and a tutu-like skirt. The Princess has no underwear.
Ashley goes looking for Tara's daisy earrings.
While she's searching, Bella tries on the Princess's rollerblades. Then she sits on a mismatched stool in front of a vanity. She looks in the mirror.
Bella's hair is dark, like yours. Her skin is perfectly smooth, almost velvety. Her eyes are long-lashed, and so open.
Something happens. That's you in the mirror. You're Bella's reflection. Your soul will look that way forever.
"I'm ready!" Tara announces. "It's time for Bella to make me breakfast."
You don't know how to do that. At home, you're the Princess. But this is Barbieland. You'll have to improvise.
Tara is seated in the dining room. Bella places a turquoise bell pepper before her.
"That's not a breakfast food, Bella. That's a vegetable."
You serve her a mini-canister of Quaker Oats.
"Good. Oats are for breakfast, you Garbage. But I need something to drink."
Bella pours invisible soda into Tara's purple wine glass, and Tara drinks it.
"Now make Bella lie on the floor."
What?
You don't think you should do that. It would be wrong.
"Make her lie on the floor! Or I'll never invite you again."
You lay Bella face down in the Dream House living room. Tara rises from the table and walks on Bella's backside.
She hops on Bella, from her head to her booty to the rollerblades and back again.
You look at the Dream House's rooftop terrace. Pure plastic. You're learning what you're made of.
Bang. The basement door slams open. Boys' voices. They stomp and rumble down the stairs.
Stomp and rumble and tumble and shove. Boom, boom. They enter with thunder.
You're a little afraid of these boys, but Ashley isn't. She's going to complain.
"We get the basement. It's my turn!"
Her older brother Tyler is ignoring her.
"Get out! Mom said!" Ashley keeps pestering her brother. But Legoland is busy.
Pirates are excavating Egypt. A T. Rex orbits an aquatic bulldozer. Knights and cowboys fight with lightsabers.
The dino attacks the dozer. You notice someone wailing. What's this?
Wet streaks are running down Ashley's reddened face. You've never seen her upset before.
You don't understand why she's crying. But many years later, you'll come to understand.
Ashley is bearing up. Since she was born, a huge pressure has been crushing her.
It shouldn't be there. She defies it. That's why she's so bossy. That's why she walks all over you.
Now she's absent, gone upstairs. And you're the only girl left—basically alone.
When you're alone, you pretend. You look into the Dream House.
Everything's yours!
The pool slide! The boombox! The coffee cups! The toilet-less bathroom! The several hairdryers!
The Dream House is filled with objects. And now you have them. That's what's pleasurable, the Having. . .
Something hits your arm, hard. A Lego. You look up. Tyler is smiling.
You'll never figure out what he wanted. To get you to leave? Or was he trying to include you?
Your own motives, too, remain mysterious. You know what you did, but not why you did it.
You stripped off Bella's leotard, and stood her up naked on the rollerblades.
And you rolled her over to Legoland, to Tyler. And in your memory, at least, he received her.
---
👯‍♀️
Melissa Tuckman (she/her) teaches courses in literature and gender at Rowan University. Her writing has appeared in several publications, including Litro, Necessary Fiction, and The Rialto.