Dante's Inferno, Canto IX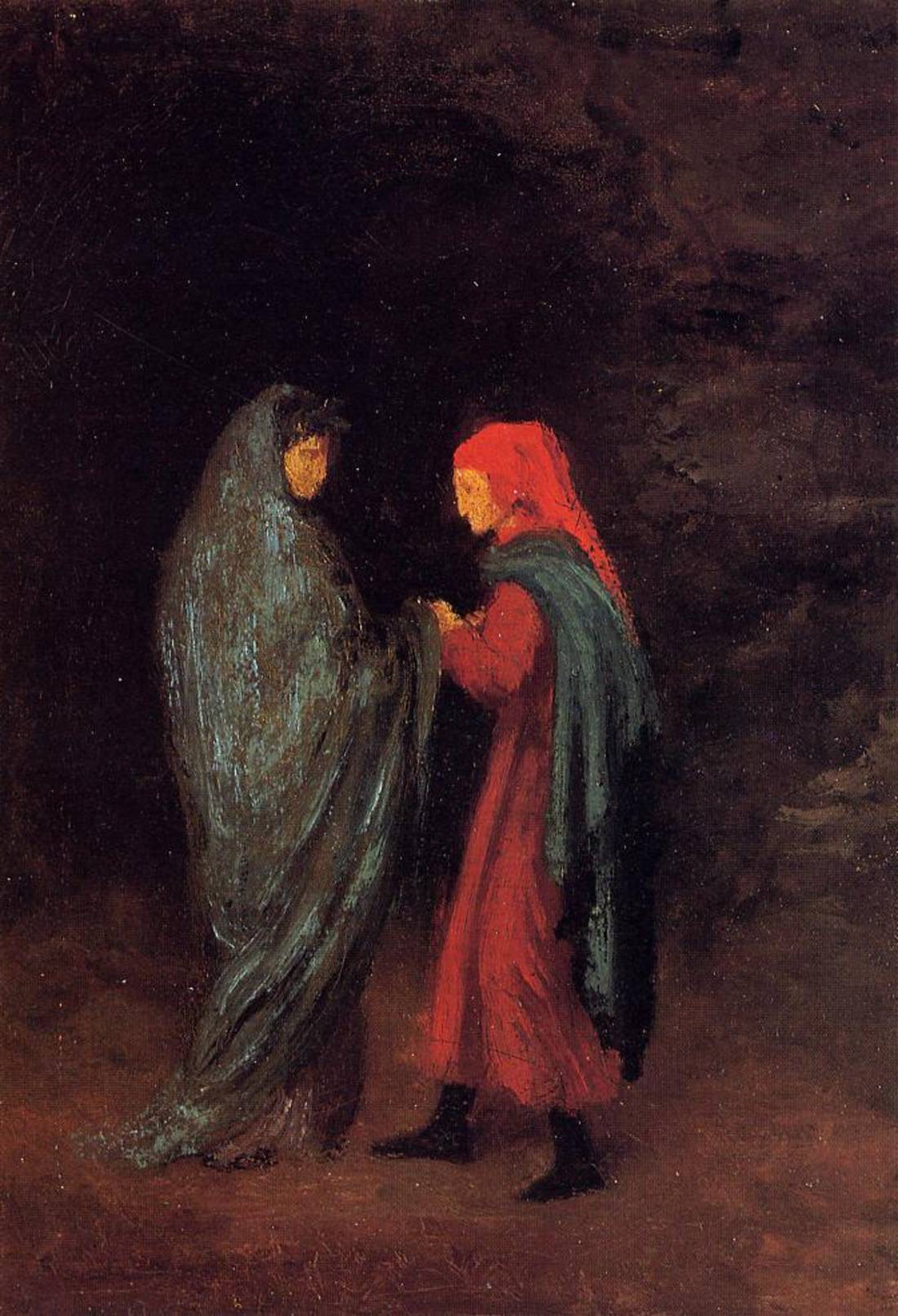 Canto IX here.
Previously: Canto VIII, part II. Up on the gates were all the Lana Turners who ever once collapsed. If they fell, jumped, dropped, shot, tumbled, leapt, or tottered, they landed here. Oh, and they were jealous jealous, of my pink-breath lungs, my mint-fresh mouth, my lovely blood-filled neck, et cet. Like Joseph's ugly brothers. And green. The way they hated how much I'd never died!
I wouldn't call the look on my face amazing then.
(Fear doesn't paint in lovely colors!!) and I guess
Looking at it made Virgil reconsider the arrangement of his own.
He fixed it. Then:
I DO NOT THINK THAT THEY CAN KILL US HERE, he said,
AND SO WE SHOULD BE FINE. UNLESS –
NO, WE GOT OURSELVES HIGH PLACEMENT FRIENDS,
THEY MUST BE ON THE WAY. UNLESS THEY THEY'RE RUNNING LATE...
NO. NO ONE WILL ABANDON US. WE ARE SO SAFE, AND NO ABANDONED. UNLESS...NO UNLESS.
I had the strangest feeling, like he meant to say something else,
and only at the final moment pulled away.
And more – well, it seemed like there was something on his mind.
"I wonder," I said, "I wonder if anyone from Limbo,
where the only problems are isn't-Heaven, has ever dropped down here?"
OH NO, Virgil said. WELL, NOW AND AGAIN, WE DO,
BUT MOSTLY NEVER. OF COURSE NOW VIRGIL IS HERE WITH YOU,
BUT I MOSTLY NEVER DO THIS, AND THE OTHERS MOSTLY NEVER TOO.
AND I NEVER DID COME HERE BEFORE. WELL, ONCE.
I WAS IN THIS RIGHT SPOT BEFORE. A WITCH,
SHE MADE ME COME HERE. OH, SHE WAS THE BIGGEST WITCH I EVER SAW.
I DIDNT LIKE TO SEE HER. HER FACE IT MAKES NO HAPPY.
SHE OPENED UP MY POOR DEAD BODY LIKE
A LITTLE BLACK UMBRELLA AND PULLED MY SPIRIT OUT.
OH, SHE WITCHED ME GOOD, AND LOOKED SO BAD.
I HAD TO GO THE FARTHEST DOWN TO GO. I HAD TO BRING SOMEBODY UP.
YOU WORRY I HAVE NEVER BEEN BEFORE? NO, IVE BEEN SO MUCH,
OH I KNOW THE WAY BELOW SO GOOD, THEY COULD MAKE ME MAYOR OF GETTING AROUND.
FOR EXAMPLE, HERE WE STUCK IN A SWAMP. WHOLE CITY
IS SURROUNDED BY IT, NO GO NO GOOD. IF WE WANT
TO GET INSIDE WE GOTTA GET SO MAD. LETS GET SO MAD!
He would have kept on going in that vein, but at the towers of the city
I could see a lot of blooded women – wearing blood – part snake, part women,
mostly snake, but quite a lot of woman too, and both in lots of blood –
BETTER LOOK OUT, LITTLE ITALY MAN, Virgil said again. THOSE GIRLS IS SNAKES, AND I THINK THEY HATE YOU.
THE ONE IN SNAKES AND BLOOD ON THE LEFT, I CALL HER MEG.
THE ONE WITH ALL THE BLOODY SNAKES ON THE RIGHT, THE ONE MOST SCREAMING
IS ALECTO. SHE IS ALSO SNAKES. AND IN THE MIDDLE
IS TISI. YOU WILL KNOW HER BECAUSE SHE IS COVERED IN BLOOD AND SNAKES.
Then he stopped talking, and for a while things were mostly snakes.
[Image via Wikimedia Commons]