Dante's Inferno, Canto IX, Part II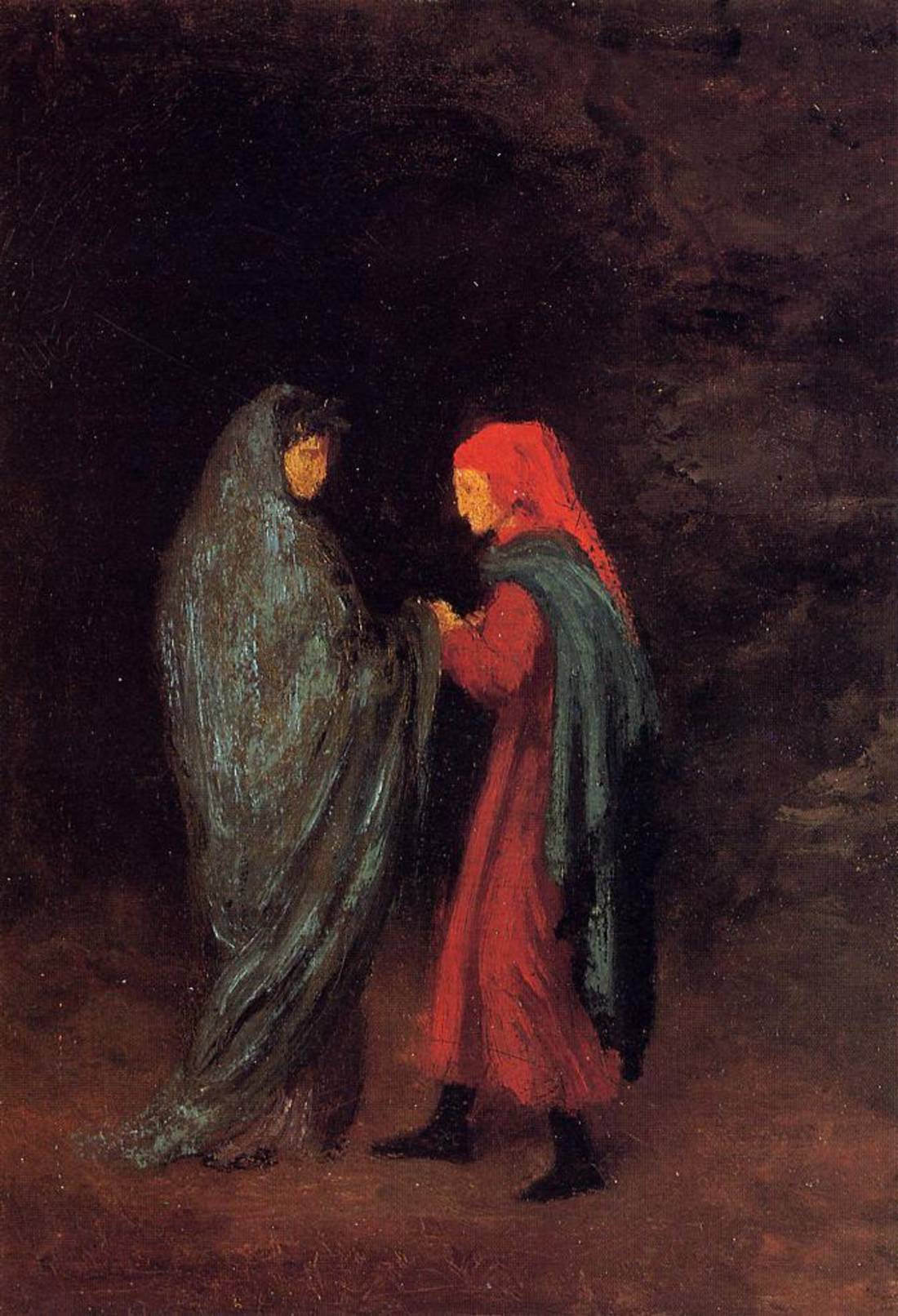 Canto IX here.
Previously: Canto IX, Part I. I wouldn't call the look on my face amazing then. (Fear doesn't paint in lovely colors!!) and I guess looking at it made Virgil reconsider the arrangement of his own.
I should have known that Virgil knew the snakes.
Get Medusa, get her face out, they cried,
their eyes white with looking, their nails thick with ripped skin,
Think of all the men we haven't turned to stone!
We've been so good. This time we'll be right.
Then Virgil spun me. I HAVE A GOOD IDEA he said.
HOW CAN SHE HURT YOUR LOOKING IF YOU JUST LOOK AWAY?
YOU ARE ALWAYS SAFE WITH ME. BUT IF YOU SEE HER
YOU BECOME A ROCK AND DIE. SO DON'T SEE HER
I spun, I crouched, I turned away. I buried my eyes in my hands.
NOT THAT I DON'T TRUST YOU, FOR I DO
BUT HERE TO MAKE YOUR EYES MORE SAFE, MY HANDS –
He doubled up on me. Any looking I might have tried, however small,
would get stuck in this twice-thicket of doubled fingers.
A word to the wise: Pay attention to what's buried not just
between fingers, but between the words below them, too.
Next thing I knew, the world shook; the sound was such that
waves waved underneath it, trembling was set to tremble,
like the cannon-wind that's born from the crash of hot air into cold
That can sweep a forest clean, spin flocks of sheep, snap branches,
snap bones. Virgil released my eyes. LOOK AT THE SMOKE.
INSIDE IT, SEE MORE SMOKE. LOOK FOR THE HEART OF SMOKE,
LOOK FOR WHERE YOU SEE THE LEAST.
With him – I hear it, I do it. He wants me to see fingers? I crouch and close my eyes. He wants me to see smoke? I look.
It was a spate of shades – spirits like a wave of toads vomiting out of a swamp,
hustle-assed and frantic, exeunt pursued by a snake –
Shaking out under the shining feet of a strider striding.
How to describe? He lit up the air around him like a Bunsen burner,
he walked fast and dry in sandals, like your mother out of patience
hustling across a parking lot to smack you good.
His left hand, worn out, fanned his face to check the stench,
and he looked like one who wasn't even supposed to be here today,
like a manager off-duty called to check the walk-in fridge.
He was all annoyance, and Virgil gestured wildly for sitting down
and shutting up. I did, but I don't mind saying – I was sorry
he had to waste his time, sorry that he had to come at all,
but I couldn't wait to watch him walk away.
He bustled sigh-heavy to the gate, tapped it with a little wand
(which opened it straight off, like it was butterscotch and nothing)
Then backed off and announced: ATTENTION ASSHOLES
I CAN COME DOWN HERE AND DO THIS ALL DAY.
THE ONLY TIME YOU'RE WASTING IS YOUR OWN.
I'VE BEEN AUTHORIZED TO KEEP YOUR AFTER CLASS
AND HERE'S THE TRICK OF IT: I WILL. YOU WANT MORE,
YOU GET MORE. DETENTION ON DETENTION. HELL CAN
HURT WORSE, IF YOU WANT IT. AND LORD KNOWS I
DON'T KNOW WHY YOU WANT IT, BUT YOU DO. KEEP KICKING
AGAINST THE PRICKS, KEEP IT UP, KEEP IT GOING,
BY ALL MEANS, UNLEARN THE SAME LESSON I KICKED DOWN YOUR TEETH LAST YEAR,
BUT I WILL WALK YOUR DOG AND LIKE IT. I HAVE TO GO,
then turned on heel and went, cutting a miracle-clean path over blood and guts,
talking to no one but himself, groaned and power-walking back to God,
(I HATE IT HERE – NEXT TIME I'LL SCRAPE THEIR SKIN – ASS TO THIS)
I said nothing – I know how to read a room – he looked like someone more annoyed by
powers above my pay grade than anything that I could ever do.
Forgive me if my next move was a little smug; I was (still)
only human then, and humans sometimes like to rub it in.
I rubbed it in, sailed through the gate, and brushed my sleeves;
I looked at everything that looking touched, I cast a lordly eye.
"My word, but that must smart!" "Oh my –!" "If I were you,
I'd simply scream in pain!" That kind of thing.
And no one there dared to say "Boo."
It was cheap, but still felt good, like street-sold meat.
[Image via Wikimedia Commons]