Dante's Inferno, Canto X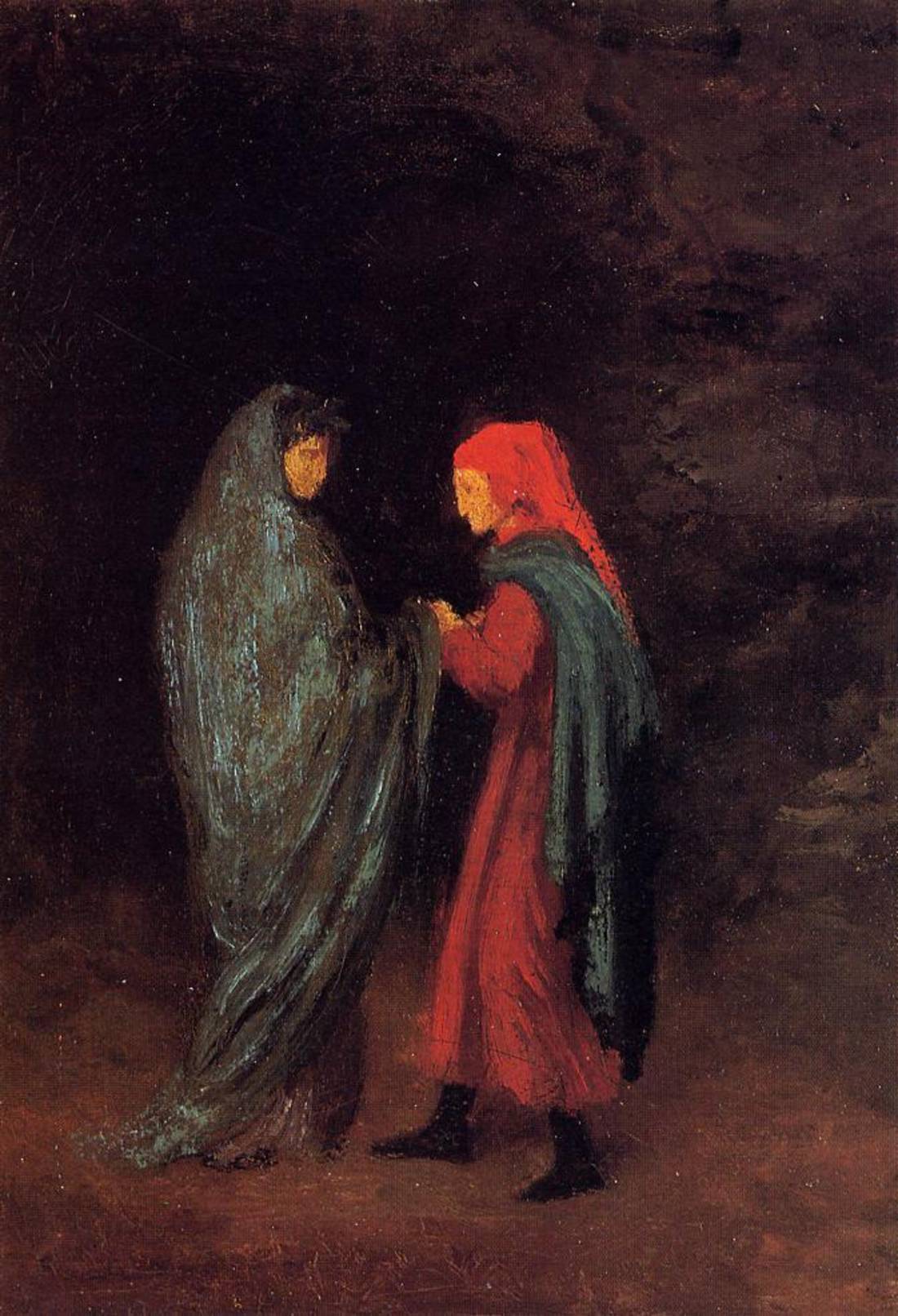 Canto X here.
Previously: Canto X, Part I. I KNOW HIM, LOOK, HE'S THE BLONDE ONE HALFWAY-UP HIS TOMB'S POOL-LADDER, WITH THE REALLY CLASSIC SWIMMER'S BUILD. He really had a classic swimmer's build.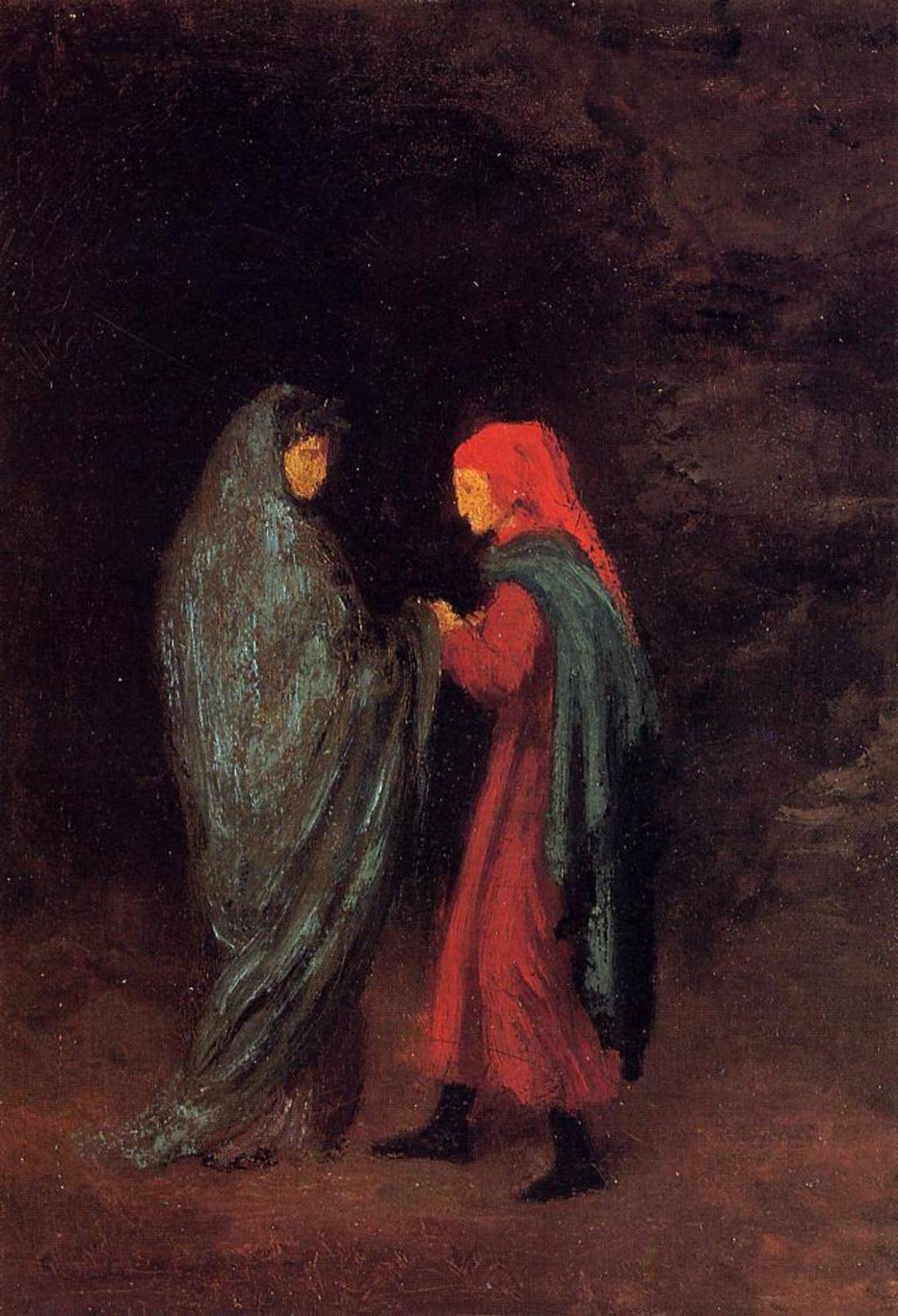 So right away I tell him how I'm not even supposed to be here,
I'm really not even here right now, just passing through,
I'm running errands, here's my badge, and besides which I'm not
even sure your son liked me by the end, or even if he ever did.
(By the nature of his suffering I could more than guess, but knew him,
which is how I came to answer him so quick about his kid).
Like a Murphy bed he sprang up, like a Murphy bed but screaming,
long and straightened out by panic: You said past tense, you said did,
so that boy's no longer living? he's forgotten, he's 'the former'?
when the sun shines, does he notice – ? I said nothing. He said nothing.
We said nothing, then he hid.    
This whole time, I should have mentioned, that great spirit,
Farinata, with the shoulders and the bronze hair – really well-knit –
Still was standing, full attention, hadn't moved his face or feet,
Dove back to our conversation like we hadn't missed a beat.
"IF I'M HONEST," he continued, "I LIKE THAT" (meaning
how my people get knocked down but then get up again)
"AS MUCH AS I LIKE BEING ON FIRE, WHICH HAPPENS
HERE LIKE ALL THE TIME. I'LL TELL YOU THIS FOR FREE:
THAT MOON-FACED GIRL WHO'S QUEEN OF DIRT HERE
WON'T FLASH ACROSS THE NIGHT SKY FIFTY TIMES
BEFORE YOUR PEOPLE START TO NOTICE JUST HOW
HEAVY THINGS CAN GET. AND POSSIBLY YOU'LL WALK
AMONG THEM, IF THE DIRT DON'T GET YOU HERE.
YOU WHO HAVE LIVED MAY LIVE AGAIN – SO TELL ME
WHY MY KIDS CAN'T CATCH A BREAK?"
And I: "The blood."
And then: He sighed. He shook his head. The blood.
And then: "But not me only, not without reason, and by the end --
I told them not to burn it!"
And he was right, that's true, he did.
I told him, "Let me soothe your children, if you solve this knot for me,
How can you read time down here? What's forbidden, what's to see?"
Then his voice regained its muster. "IN A BAD LIGHT, IN BAD WAYS,
SO THINGS FAR OFF STILL BLAZE A BRIGHTNESS –
BUT THINGS QUITE CLOSE – BLANK – MUDDLED – HAZE –
UNLESS THE NEWS WITH NEWLY DEAD DROPS DOWN,
WE BURN AND NEVER LEARN A THING.
WHEN FUTURES SHUT AND TURN TO PRESENT,
OUR KNOWING FALLS OFF AND OUT OF SYNC."
My face felt hot and out of sorts – I felt the pricking of remorse –
I said, "His son was never dead – the one who passed out,
at your feet, I didn't get my head together in such time to
answer straight, but he should know his boy is living –
Would you tell him? It's just that I can't face –
And would you tell him that I'm sorry for my sorry lack of grace?"
Then Virgil hollered and I hustled;
I didn't like to make him wait.