Dante's Inferno, Canto X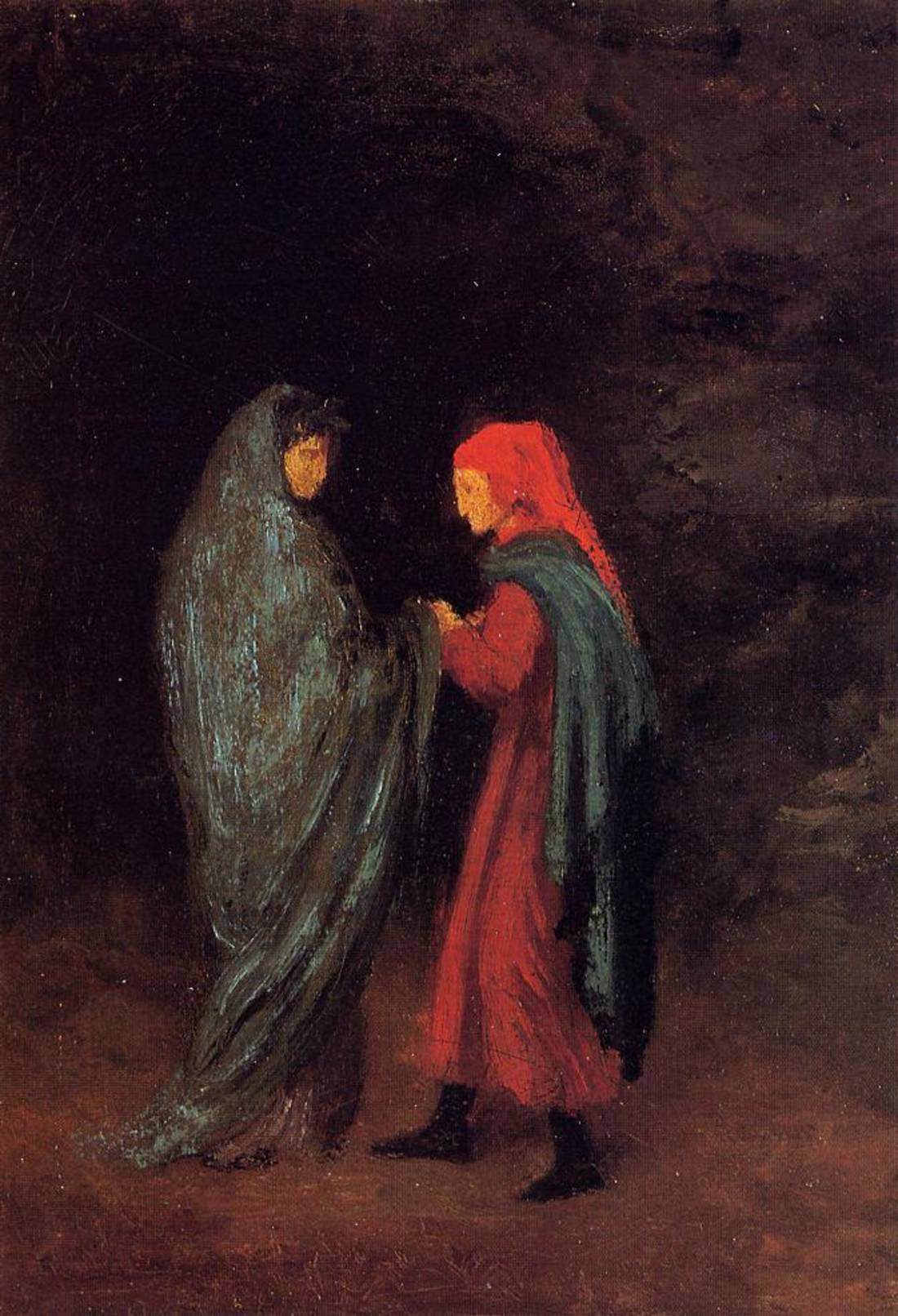 Canto X here.
Previously: Canto IX, Part II. He bustled sigh-heavy to the gate, tapped it with a little wand (which opened it straight off, like it was butterscotch and nothing), Then backed off and announced: ATTENTION ASSHOLES. I CAN COME DOWN HERE AND DO THIS ALL DAY. THE ONLY TIME YOU'RE WASTING IS YOUR OWN.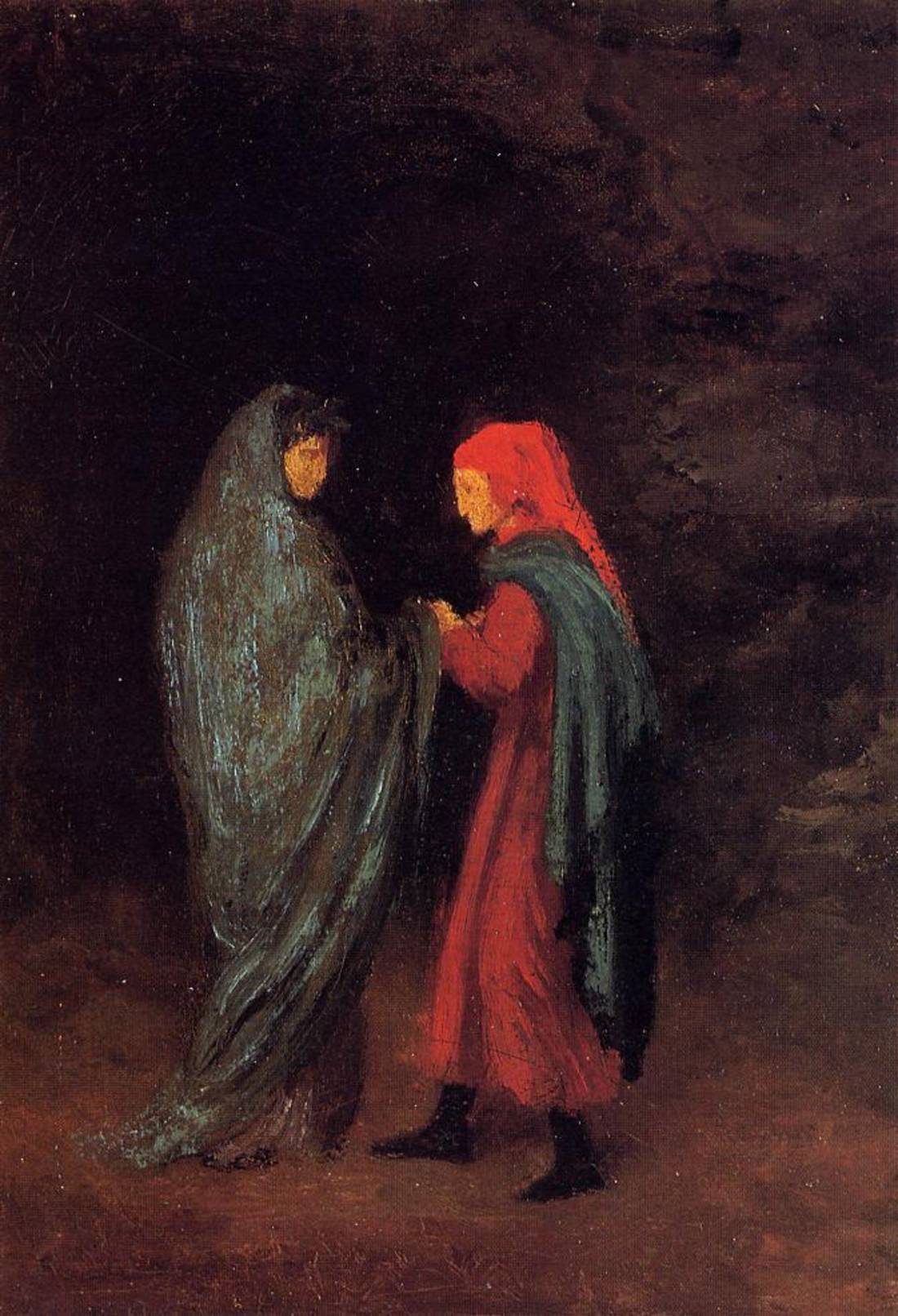 Good lord! You know that spot in Arles where the Rhone slacks off?
Or the Gulf of Quarnero, where the waters, island-busted, cut off Italy?
Where all the old tombs terrace the landscape? Just like that,
only here, the tombs breathed fire. Good blacksmith's fire,
with over-hanging lids and shrieks and moans.
The heretics are here, all stacked like loaves,
and we picked our way around them. Out of respect
I let Virgil go first. "I love how you're in charge,"
I said, "and I love this secret path we're on, going in
whatever circles look the best to you. Only if you feel like talking,
I'm just thinking out loud, do you think that we could
peek inside? Because the lids are up already and if
you can groan, then you can talk, is my first thought."
He felt like it. LIDS ARE UP BECAUSE THE DAY
SHE'S GONNA COME WHEN EVERYBODY DOWN HERE
GETS THEIR BODY BACK, GONNA GET ALL LINED UP AND MATCHED RIGHT BACK.
SO YOU SEE HERE A CEMETERY FULL OF ALREADY-DEAD DEAD
ON ACCOUNT OF EPICURUS, YOU KNOW THE MAN,
WHO SAY BODY AND SPIRIT ARE THE SAME THING, AND
BOTH THEY DIE AT ONCE, AND NOW WE GOT 'EM SPLIT LIKE A SANDWICH UP.
AND THAT ANSWERS THE QUESTION THAT YOU DID ASK
AND BOTH THE QUESTION THAT YOU DIDN'T ASK
AND THE OTHER THING YOU KEEP A SECRET IN YOUR HEART.
And I said, "Oh my little baby papa, peg o' my heart, little ragtime gal,
I never would hide a single thing from you – here, take my phone,
all my passwords spell out VIRGIL, and the only reason
I wouldn't ask a question is that sometimes you get mad when I ask questions."
I HEAR A LIVING TUSCAN TRYING TO SOUND POLITE –
I HOPE THAT HE SLOWS DOWN – IT'S POSSIBLE I SET
THAT CITY A BIT TOO MUCH ON FIRE – IT'S POSSIBLE I
KNOCKED TOO MANY HOUSES DOWN. I HOPE YOU'LL STAY,
said a nearby tomb. I thought I'd listen while I stood
just a little closer to my good friend Virgil, so I shifted my
position. I shifted rather quickly. To speak truth: I jumped.
Virgil didn't. I KNOW THAT VOICE. TURN AROUND.
AND QUIT-A CRYING. I KNOW HIM, LOOK, HE'S
THE BLONDE ONE HALFWAY-UP HIS TOMB'S POOL-LADDER.
WITH THE REALLY CLASSIC SWIMMER'S BUILD.
He really had a classic swimmer's build. He looked already bored,
and I didn't like to bother him, except that Virgil had already
shoved me halfway in to share his tomb, and hissed, DON'T STUTTER,
AND CLOSE YOU MOUTH. And the blonde looked me
up and down, then unimpressed, said, TELL ME WHO'S YOUR FATHER.
And I said I'd love to tell him who my father was. I meant it,
too, and I didn't even lie, and I managed to see like half his eyebrow raised,
IF I RECALL, THAT'S TWICE I DROVE YOUR PEOPLE OUT.
It's possible, that's possible, I said, but both times they've returned,
which is more than I can say for you and yours.
The the tomb's mouth spoke more spirit: This one
chinned up and over the lid, knee-high, and looking
like his eyes were getting paid by the square inch. I mean
looking looking, and evidently didn't see what he looked for,
burst into tears, and said, "Why you, and not my son? Why you,
without my boy?"
[Image via Wikimedia Commons]