Dante's Inferno, Canto XI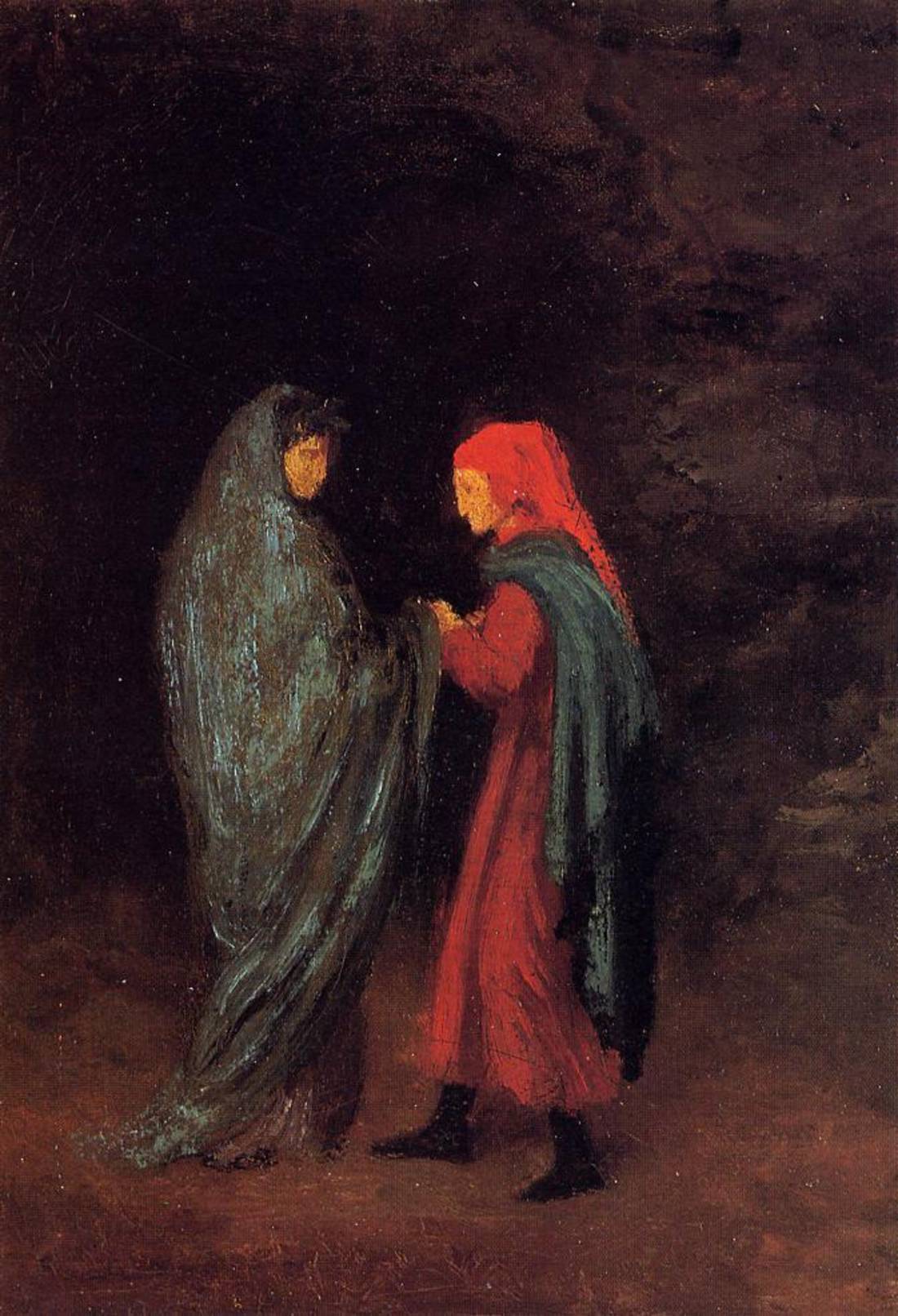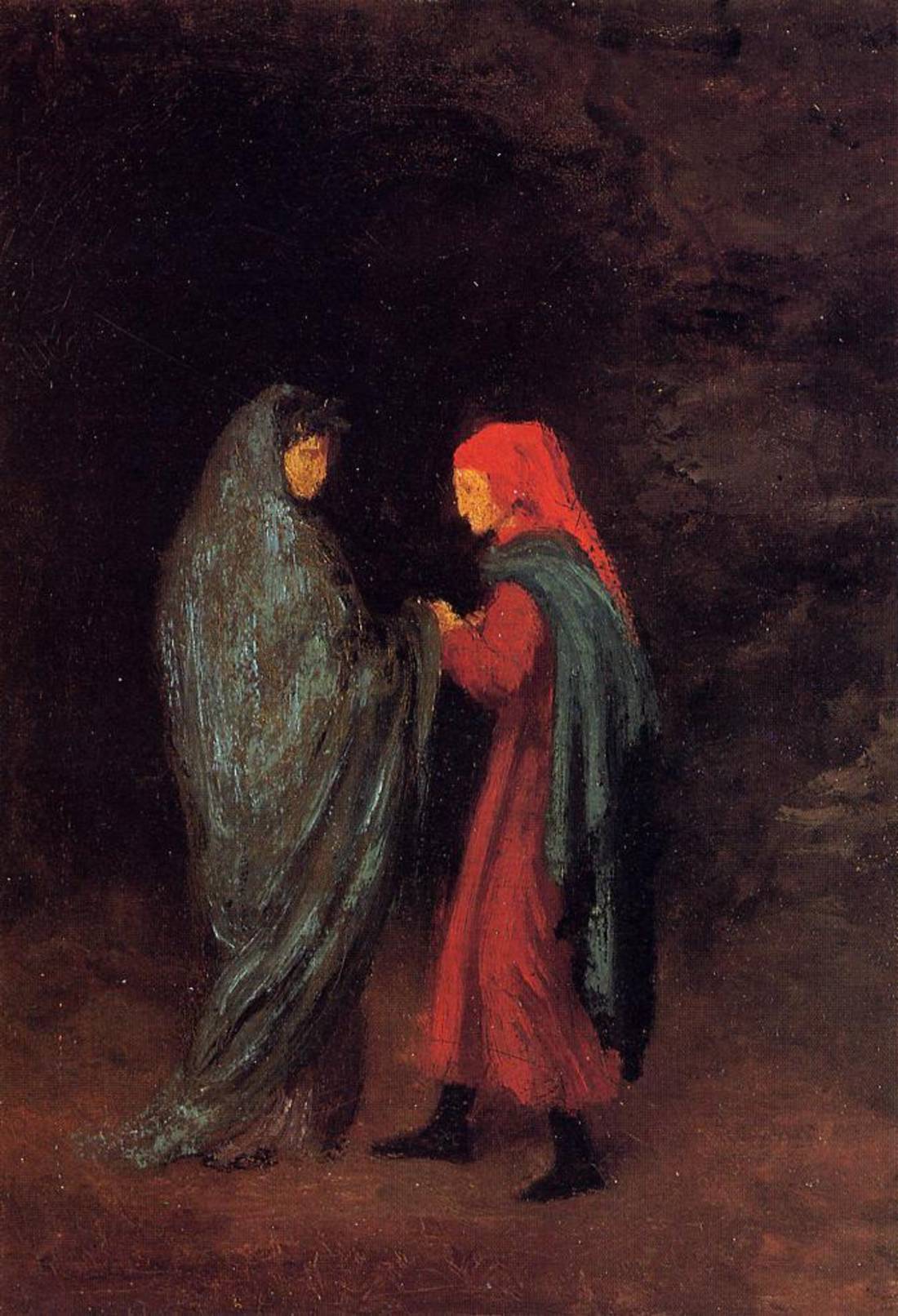 Canto XI here.
Previously: Canto X, part II. Like a Murphy bed he sprang up, like a Murphy bed but screaming, long and straightened out by panic: You said past tense, you said did, so that boy's no longer living? he's forgotten, he's 'the former'? when the sun shines, does he notice – ? I said nothing. He said nothing. We said nothing, then he hid.
Here the earth banked up and rested,
here the rocks broke the ravine;
sloped the banks down to a river.
(not of water – just obscene)
The pit exhaled in rotten rhythm,
drifted up the blighted air – I ducked behind a nearby pillar
for a momentary change in prospect, and saw a scroll read:
ANASTASIUS INTERRED WHERE PHOTINUS LAST ENSNARED.
JUST A MINUTE, POCO MINUTE, whispered Virgil through a rag,
I FORGET HOW BIG THE SMELL GETS. LET'S TAKE FIVE.
HELL REQUIRES MORE ADJUSTMENTS EVERY TIME YOU TAKE A DIVE.
"Not a problem," was my answer, "I know how to be a sport. Should we pass the time with profit –"
I ALREADY WAS THINKING OF THAT, came the reply. I ALREADY HAD THE SAME IDEA, BUT FIRST.
OKAY. HERE IS HOW TO THINK OF DOWNWARDS:
SOON WE WALK BELOW OUR FEET.
THREE MORE CIRCLES, EACH ONE SMALLER,
THE FIRST ONE HOLDING ALL COMPLETE.
EACH A SACK STUFFED UP WITH SUFFER.
ITS SO BAD TO LOOK AT, YOU WILL THINK ENOUGH –
BUT LISTEN FIRST AND LOOK AT LATER.
VIOLENCE, SHES NO GOOD, BUT CATS CAN DO IT
IT TAKES A MAN TO MAKE A FRAUD, WHICH MAKES
IT WORSE BECAUSE A CAT-FAULT CANNOT DO MORE THAN SCRATCH AT HEAVEN,
BUT A MAN-FAULT BREAKS UP GOD. SO FRAUD SHES WORSE.
SO VIOLENCE GOES UP AT THE TOP, BECAUSE THERES BAD BUT THEN THERES BAD
YOU CAN TRY TO CHUCK ROCKS AT GOD, THATS ONE VIOLENCE,
YOU SMACK YOUR NEIGHBOR, THATS THE NEXT
YOU HIT YOURSELF, YOU DONT QUIT HITTING YOURSELF,
YOU RUIN PARTIES WHEN YOU SHOW UP CRYING,
YOU BREAK IT DONT BUY IT, YOU LITTER, YOU CUT DOWN TREES,
YOU BEND UP HEAVEN WITH YOUR VIOLENT THOUGHTS, THATS THERE.
NEXT FRAUD, SHE ALWAYS LEAVES A PAPER TRAIL
EITHER ON THE DESK OR IN THE HEART.
YOU DRAW MENS FAITH, THEN PEEL IT OFF?
OH, YOUVE CUTTEN DOWN THE TREE OF TRUST,
THEN THE SMALLEST, AND THE LAST, WHERE HELL ITSELF
IMPRISONS HELL, THERE GO TRAITORS. AND HELL EATS THEM, HELLS CONSUMED.
I spoke carefully (I thought): "Sir: A noble explanation here of circles. Well done!
Now I can say: I know about the circles, and what's in them. I merely wonder now:
What about the souls that we've already seen? The swampish lumps, the wind-blown scraps,
Those fellows playing nine-pins with each other?
Where do they fit into this?"
Well. Not carefully enough, since Virgil said:
WHERE DOES YOUR MIND GO, WHEN IT GOES?
AND WHYS IT ALWAYS GOING?
HAVE YOUR EYES NEVER CHECKED A BOOK?
DID YOU READ ONCE, AND THEN FORGET?
REMEMBER AQUINAS. REMEMBER ARISTOTLE.
(THAT SHOULDNT BE TOO HARD, THATS JUST THE A'S)
THE THREE MODES THAT HEAVEN SHUNS BUT LEAST OFFEND:
MEAN, INDULGENT, CRAZY BEAR MODE,
AND OF THE THREE, INDULGENTS NOT SO BAD?
OKAY, SO THINK YOUR THOUGHTS,
MAYBE THATS WHY THEYRE UP THERE
AND NOT A LITTLE FURTHER DOWN.
I tried again: "You've cured me of my thoughts,
just like the sun can cure the day of night, and made me
healthy. Thank you!!! Now I'm happy like a book or patch of grass."
[Image via]