Friday Link Roundup and Open Thread
Good:
Officials announced that no charges will be filed against the man responsible for dumping over 500 pounds of pasta in the woods earlier this month...
Residents of Old Bridge were startled when more than 500 pounds of macaroni, spaghetti, and ziti were strewn all along the stream of Veteran Park.
Police believe the giant piles of uncooked pasta, which stretched more than 25 feet in the wooded area, were removed from the packaging and then dumped along the creek...Authorities say they were able to dispose all of the pasta in under an hour.
---
It's not just Adrian Chiles who's running for "most beloved voice of the people" at The Guardian: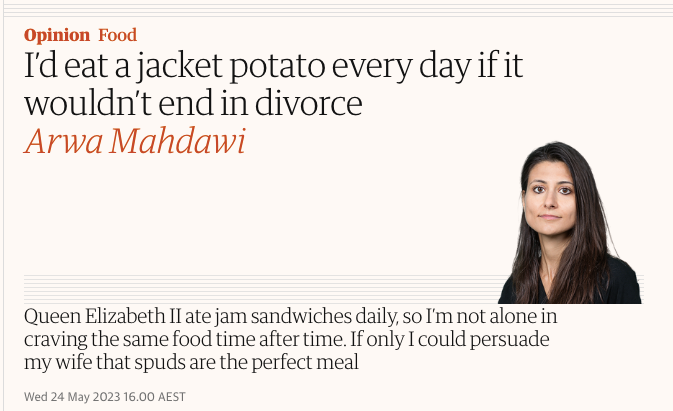 ---
Just in time for the opening of my new all-death-caps restaurant!
---
"people like to say 'this isn't the future sci fi promised us' but this is absolutely the future philip k dick promised you"
---
"Over the next decade, Anger would extend his pursuit of these occultist visions, culminating in 1972's Lucifer Rising. After its release, Anger did not produce another film for nearly 30 years."
---
This is absolutely true:
https://twitter.com/laserboat999/status/1661923130263343104
---
Police said 23-year-old Callie Elizabeth Thweatt somehow got inside the restaurant after it had been closed and opened the food coolers.
Thweatt then made a salad. Officers said she touched several food items with her bare hands, rendering those ingredients no good.
Police said the total value of the salad Thweatt made was $500. However, authorities did not specify what ingredients Thweatt put in her salad.