How Ethan Hawke was the first person I met in New York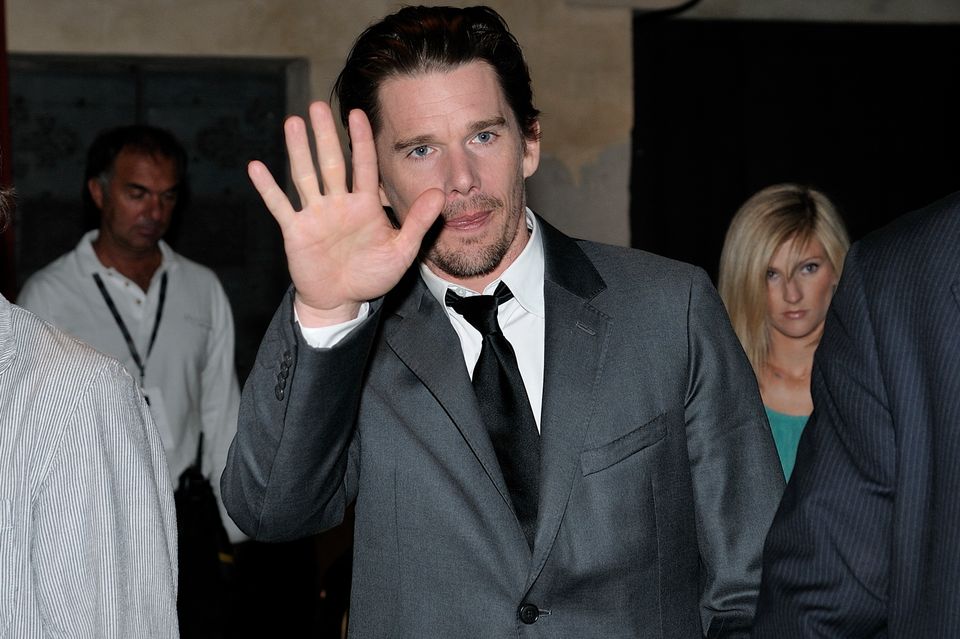 The first time I went to New York was for this competitive open weekend at NYU, where a couple of dozen shortlisted prospective students were flown in to engage in a cocktail party and "small group conversation" deathmatch.
The flight landed pretty late at night. It rarely happens now but JFK can or could be desolate. It took me forever to get through security because I fucked up the forms and then there was just nobody around. For some reason the signage was  not helping me figure it out. I had my UK mobile but it didn't work. I would be staying with an old friend in Harlem and had no idea how to get from here to there.
After wandering for a while with my backpack looking for signs I stopped to try to figure out if the subway was still open by consulting notes I had made somewhere in the depths of my Nokia. Then I noticed movement. There was one guy wheeling his trolley through the customs doors. Maybe he'd been held up just as long as me by the scale or complexity of his luggage.
He didn't stop but he sort of slowed down and glanced at me as he went past, a distinctive, dad-like mixture of concern and unwillingness to be creepy on his face. I half-yelled, "Do you know where the taxis are?" I had cash from the bureau de change in Heathrow and data regarding the cross-streets.
If I had to pick a single adjective for his appearance it would be "grizzled." He seemed relieved to be put in a clear position and smiled and said yes and that I should follow him towards the doors. I'm not an idiot so I kind of hung back a few paces until I saw the taxi sign and the people queuing up in the snow. He put me in front of him in the line and I thanked him. We shuffled forward in mumbling quiet, herded by those powerfully efficient taxi handlers they have at JFK. We got the front and got shepherded towards different cars in the line.
I stepped towards my car and the guy from the trolley said, "Miss! Miss! You dropped this." He was holding out a half-frozen scarf that still held its shape from being left draped over a railing. I told him it wasn't mine but thanks anyway and he leapt into his cab.
"That was Ethan Hawke," the next guy in the line said to me as we talked to our neighboring drivers and fumbled our stuff across the melty cement ice.
"What?" I said. The night was bitter and there was a little howling going on besides the regular airport racket.
"Ethan Hawke! How about that." He shut his door.
I got into the cab and shut the door and wondered whether it was possible that Ethan Hawke was only three inches taller than me. That's the kind of thing you could think about all the way to the bridge to Manhattan before smartphones. The sight of the bridge obviously caused me to forget about him for about two years until eventually I saw him again in the East village on the street and it was definitely the same person. Nice guy.